Jurassic World: Dominion Dominates Fandom Wikis - The Loop
Play Sound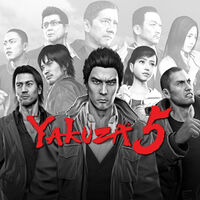 Yakuza 5 is a 2012 open world action-adventure video game developed and published by Sega for the PlayStation 3. The game is the fifth main entry in the Yakuza (series) of action-adventure games. The game was released in December 2012 in Japan, and localized for North America, Europe and Australia as a PlayStation Network download exclusive in December 2015. The game features a new graphics engine, unlike previous PS3 games in the series that have been re-utilizing the same engine since Ryū ga Gotoku Kenzan!. For the first time in the series, it features five settings across Japan along with five playable main characters. This game is also the first in the series to have a digital only release in the West.
Plot
The game features five main protagonists, the highest number of main protagonists of any game in the series, with the previous highest being Yakuza 4's four main protagonists. The game features series protagonist, Kazuma Kiryu, the main character since the original Yakuza game. There are also two returning protagonists from Yakuza 4, namely Shun Akiyama and Taiga Saejima. One of the new main protagonists is Haruka Sawamura, a recurring character of the series since the original game. Though she has always been an integral part of the story, she has never been a playable main character before the game. Lastly is Tatsuo Shinada (Toshiyuki Morikawa), a new character to the Yakuza series.
For the first time in the series, the game features five distinct locales across Japan. First of which will be returning from previous games is Kamurocho (a.k.a. Kamuro City), a fictionalized yet realistic recreation of Shinjuku's red-light district, Kabukichō. Second is Sōtenbori, a fictional Osaka district based on Dōtonbori, which is returning from Yakuza 2. The three new cities in the game are Nagasugai, part of the fictional Fukuoka based on Nakasu, Tsukimino, part of the fictional Sapporo based on Susukino and Kin'eicho, part of the fictional Nagoya based on Sakae. According to producer Toshihiro Nagoshi and writer Masayoshi Yokoyama, it will be like the "Grand Theft Auto: San Andreas" of the Yakuza series, in that it is a "massive expansion on the core concept that takes the franchise to new heights."
Story
Part 1: Kazuma Kiryu
Part 1 Chapter 1: The Wanderer
Screenshots
Videos