Jurassic World: Dominion Dominates Fandom Wikis - The Loop
Play Sound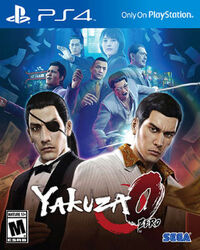 Yakuza 0 was originally released in Japan on March 12, 2015. It was released in North America on January 24, 2017. It is a prequel of the Yakuza (series).
Plot
In December, 1988, two unlikely figures from the Yakuza world, Kazuma Kiryu of the Kantō region and Goro Majima of the Kansai Region, have suddenly found themselves getting involved in the terrible events of the so-called "Empty Lot" dispute, which is the centrepiece of power struggle for all the dark organizations across Japan. In order to find out the truth behind such a power struggle, as well as maintain their own innocence and safety, they set out to investigate all the events surrounding the "Vacant Lot" incident.
In Kamurocho, Tokyo, Kiryu is suspected of murder after the man that he has collected money from winds up dead in a piece of real estate that is hotly contested. Kiryu's boss, Sohei Dojima, offers a promotion to second-in-command of the Dojima Family to whomever can find the deed to the land, and thus the most ruthless members go after Kiryu. On the run, Kiryu must prove his innocence thus keeping his foster father from facing retribution for introducing him into the clan.
In Sōtenbori, Osaka, Majima runs a cabaret club after being exiled from the Tojo Clan due to the Ueno-Seiwa hit years earlier. Despite his club being highly successful, he realizes it's nothing more than cage as he's under constant surveillance. One day, he's offered the chance to redeem himself by assassinating a target. He takes the job, but can't go through with it when he realizes his target is in fact a defenseless blind girl. He decides to protect her instead and find out why she's being targeted.
Story
Chapters
The are 17 chapters in this game:
Substories
There are 100 substories: Kiryu has 60 substories, while Majima has 40.
Completion List
There are 374 tasks to complete.
| Task | Description |
| --- | --- |
| Buy from Dream Machines 5 times | Buy items from Dream Machines 5 times. |
| Buy from Dream Machines 10 times | Buy items from Dream Machines 20 times. |
| Buy from Dream Machines 20 times | Buy items from Dream Machines 20 times. |
| Buy from Dream Machines 50 times | Buy items from Dream Machines 50 times. |
| Collect 5 telephone cards | Collect 5 telephone cards |
| Collect 20 telephone cards | Collect 20 telephone cards |
| Collect 45 telephone cards | Collect 45 telephone cards |
| Complete Akaushimaru | Order everything on the menu at Akaushimaru |
| Complete Cafe Alps | Order everything on the menu at Cafe Alps |
| Complete Earth Angel | Order everything on the menu at Earth Angel |
| Complete Fuji Soba | Order everything on the menu at Fuji Soba |
| Complete Ganko Sushi | Order everything on the men at Ganko Sushi |
| Complete Gindaco | Order everything on the menu at Gindaco |
| Complete Heroine | Order everything on the menu at Heroine Karaoke Bar |
| Complete Kani Douraku | Order everything on the menu at Kani Douraku |
| Complete Kanrai | Order everything on the menu at Kanrai |
| Complete Kinryu Ramen | Order everything on the menu at Kinryu Ramen |
| Complete Komian | Order eveerything on the menu at Komian |
| Complete Kushikatsu Daruma | Order everything on the men at Kushikatsu Daruma |
| Complete Maharaja | Order everything on the menu at Maharaja |
| Complete Ringer Hut | Order everything on the menu at Ringer Hut |
| Complete Shellac | Order everything on the menu at Shellac |
| Complete Shot Bar STIJL | Order everything on the menu at Shot Bar STIJL |
| Complete Smile Burger | Order everything on the menu at Smile Burger |
| Complete Sushi Gin | Order everything on the menu at Sushi Gin |
| Complete Tengokuken | Order everything on the menu at Tengokuken |
| Complete Tsuruhashi Fugetsu | Order everything on the menu at Tsuruhashi Fugetsu |
| Complete Utahime | Order everything on the menu at Utahime Karaoke Bar |
| Complete Vincent | Order everything on the menu at Vincent |
| Complete Yoronotaki | Order everything on the menu at Yoronotaki |
| Complete Zuboraya | Order everything on the menu at Zuboraya |
| Dine at eateries 10 times | Dine at eateries 10 times. |
| Dine at eateries 30 times | Dine at eateries 30 times. |
| Dine at eateries 50 times | Dine at eateries 50 times. |
| Dine at eateries 100 times | Dine at eateries 100 times. |
| Earn a total of ¥ 20,000,000 | Earn a total of ¥ 20,000,000 |
| Earn a total of ¥ 40,000,000 | Earn a total of ¥ 50,000,000 |
| Earn a total of ¥ 100,000,000 | Earn a total of ¥ 100,000,000 |
| Earn a total of ¥ 1,000,000,000 | Earn a total of ¥ 1,000,000,000 |
| Earn a total of ¥ 10,000,000,000 | Earn a total of ¥ 10,000,000,000 |
| Earn a total of ¥ 50,000,000,000 | Earn a total of ¥ 50,000,000,000 |
| Eat 5 food items | Eat 5 food items |
| Eat 15 food items | Eat 15 food items |
| Eat 30 food items | Eat 30 food items |
| Entertain yourself 10 times | Enjoy yourself at an entertainment venue 10 times |
| Entertain yourself 30 times | Enjoy yourself at an entertainment venue 30 times |
| Entertain yourself 50 times | Enjoy yourself at an entertainment venue 50 times |
| Entertain yourself 100 times | Enjoy yourself at an entertainment venue 100 times |
| Scatter a total of ¥ 1,000,000 | Scatter a total of ¥ 1,000,000 |
| Spend a total of ¥ 1,000,000 | Spent a total of ¥ 1,000,000 |
| Spend a total of ¥ 1,000,000 | Spent a total of ¥ 1,000,000 |
| Spend a total of ¥ 10,000,000 | Spent a total of ¥ 10,000,000 |
| Spend a total of ¥ 100,000,000 | Spent a total of ¥ 100,000,000 |
| Spend a total of ¥ 1,000,000,000 | Spent a total of ¥ 1,000,000,000 |
| Spend a total of ¥ 5,000,000,000 | Spent a total of ¥ 5,000,000,000 |
| Spend a total of ¥ 10,000,000,000 | Spent a total of ¥ 10,000,000,000 |
| Talk to people 50 times | Talk to people around town 50 times |
| Talk to people 100 times | Talk to people around town 100 times |
| Talk to people 300 times | Talk to people around town 300 times |
| Travel 2 km by dashing | Travel 2 km by dashing |
| Travel 5 km by dashing | Travel 5 km by dashing |
| Travel 10 km by dashing | Travel 10 km by dashing |
| Travel 20 km on foot | Travel 20 km on foot |
| Travel 50 km on foot | Travel 50 km on foot |
| Travel 100 km on foot | Travel 100 km on foot |
| Travel by taxi 5 times | Travel by taxi 5 times |
| Travel by taxi 15 times | Travel by taxi 15 times |
| Travel by taxi 30 times | Travel by taxi 30 times |
| Use 5 medicine items | Use 5 medicine items |
| Use 15 medicine items | Use 15 medicine items |
| Use 30 medicine items | Use 30 medicine items |
| View 5 different video clips | View 5 different video clips |
| View 15 different video clips | View 15 different video clips |
| View 30 different video clips | View 30 different video clips |
| Task | Description |
| --- | --- |
| Acquire 10 different gear items | Acquire 10 different gear or accessory items |
| Acquire 10 different weapons | Acquire 10 different weapons |
| Break 20 objects in battle | Break 20 objects in battles *Excluding those broken by throwing or kicking |
| Defeat 1 nouveau rich enemy | Defeat 1 nouveau rich enemy |
| Defeat 10 enemies using weapons | Defeat 10 enemies using weapons |
| Defeat 5 coliseum opponents | Defeat 5 coliseum opponents |
| Defeat 5 enemies using the brawler style | Defeat 5 enemies using the brawler style |
| Defeat 50 enemies in Rush style | Defeat 50 enemies using the Rush style |
| Defeat 50 enemies on the street | Defeat 50 enemies that attack you on the street |
| Defeat 100 enemies in Brawler style | Defeat 100 enemies using the brawler style |
| Defeat 100 enemies in Rush style | Defeat 100 enemies using the rush style |
| Defeat Mr. Shakedown 1 time | Defeat Mr. Shakedown 1 time |
| Defeat Sega 1 time | Defeat an enemy with the last name "Sega" 1 time |
| Earn a total of ¥1,000,000 in battle | Earn a total of ¥1,000,000 in battle |
| Earn a total of ¥5,000,000 in battle | Earn a total of ¥5,000,000 in battle |
| Earn a total of ¥10,000,000 in battle | Earn a total of ¥10,000,000 in battle |
| Earn a total of ¥100,000,000 in battle | Earn a total of ¥100,000,000 in battle |
| Help 5 attack victims around town | Help 5 people who are being attacked around town |
| Use 10 different Heat Actions | Use 10 different Heat Actions |
| Use Heat Actions 20 times | Use Heat Actions 20 times |
| Win 10 coliseum tournaments | Win coliseum tournaments 10 times |
| Task | Description |
| --- | --- |
| Befriend Miho | Deepen your friendship with Miho the Poppo Tenkaihi St. employee |
| Complete 5 Kiryu substories | Complete 5 Kiryu substories |
Task
Description
Acquire 5 different prizes
Acquire 5 different prizes from the UFO Catcher
Acquire 15 different prizes
Acquire 15 different prizes from the UFO Catcher
Befriend Ayaka
Befriend Ayaka through the telephone club
Befriend Haruki
Befriend Haruki through the telephone club
Befriend Riku
Befriend Riku through the telephone club
Bowl 10 strikes
Bowl 10 strikes in bowling
Catch 5 different freshwater fish
Catch 5 different freshwater fish while fishing
Catch 5 different saltwater fish
Catch 5 different saltwater fish while fhising
Collect 5 different frames
Collect 5 different frames in Pocket Circuit
Collect 5 different gears
Collect 5 different gears in Pocket Circuit
Collect 5 different motors
Collect 5 different motors in Pocket Circuit
Collect 5 different tires
Collect 5 different tires in Pocket Circuit
Compete in races 10 times
Compete in Pocket Circuit races 10 times
Earn a total of ¥1,000,000 in Catfights
Earn a total of ¥1,000,000 in Catfights
Earn a total of ¥1,000,000 in cee-lo
Earn a total of ¥1,000,000 in cee-lo
Earn a total of ¥1,000,000 in cho-han
Earn a total of ¥1,000,000 in cho-han
Earn a total of ¥1,000,000 in koi-koi
Earn a total of ¥1,000,000 in koi-koi
Earn a total of ¥1,000,000 in oicho-kabu
Earn a total of ¥1,000,000 in oicho-kabu
Earn a total of ¥5,000,000 in batting
Earn a total of ¥5,000,000 in batting
Earn a total of ¥5,000,000 in blackjack
Earn a total of ¥5,000,000 in blackjack
Earn a total of ¥10,000,000 in baccarat
Earn a total of ¥10,000,000 in baccarat
Earn a total of ¥10,000,000 in darts
Earn a total of ¥10,000,000 in darts
Earn a total of ¥10,000,000 in mahjong
Earn a total of ¥10,000,000 in mahjong
Earn a total of ¥10,000,000 in poker
Earn a total of ¥10,000,000 in poker
Earn a total of ¥10,000,000 in pool
Earn a total of ¥10,000,000 in pool
Earn a total of ¥10,000,000 in roulette
Earn a total of ¥10,000,000 in roulette
Earn a total of ¥10,000,000 in split games
Earn a total of ¥10,000,000 in split game bowling
Friday Night 1
Get the highest score in Friday Night (EASY) at the disco
Friday Night 2
Get the highest score in Friday Night (NORMAL) at the disco
Friday Night 3
Get the highest score in Friday Night (HARD) at the disco
Get 90+ in Bakamitai
Get 90 or more in Bakamitai- at karaoke
Get 90+ in Heartbreak Mermaid
Get 90 or more in Heartbreak Mermaid at karaoke
Get 90+ in Judgement - Shinpan-
Get 90 or more in Judgement -Shinpan- at karaoke
Get 90+ in Rouge of Love
Get 90 or more in Rouge of Love at karaoke
Get 90+ in x3 SHINE
Get 90 or more in x3 SHINE at karaoke
Get 100000 points in Fantasy Zone
Get 100000 points in Fantasy Zone
Get 5000000 points in Out Run
Get 5000000 points in Out Run
Get 5000000 points in Space Harrier
Get 5000000 points in Space Harrier
Get 5000000 points in Super Hang-On
Get 5000000 points in Super Hang-On
Go out 10 times
Go out in mahjong 10 times
Go out with Full Straight
Go out in mahjong with Full Straight
Go out with

Haneman

1 time
Go out in mahjong with Haneman 1 time
Go out with

Mangan

5 times
Go out in mahjong with Mangan 5 times
Go out with

Riichi Ippatsu

Go out in mahjong with Riichi Ippatsu
I Wanna Take You Home 1
Get the highest score in I Wanna Take You Home (EASY) at the disco
I Wanna Take You Home 2
Get the highest score in I Wanna Take You Home (NORMAL) at the disco
I Wanna Take You Home 3
Get the highest score in I Wanna Take You Home (HARD) at the disco
I'm Gonna Make Her Mine 1
Get the highest score in I'm Gonna Make Her Mine (EASY) at the disco
I'm Gonna Make Her Mine 2
Get the highest score in I'm Gonna Make Her Mine (NORMAL) at the disco
I'm Gonna Make Her Mine 3
Get the highest score in I'm Gonna Make Her Mine (HARD) at the disco
Koi no DISCO QUEEN 1
Get the highest score in Koi no DISCO QUEEN (EASY) at the disco
Koi no DISCO QUEEN 2
Get the highest score in Koi no DISCO QUEEN (NORMAL) at the disco
Koi no DISCO QUEEN 3
Get the highest score in Koi no DISCO QUEEN (HARD) at the disco
Perform 3 carom shots
Perform 3 carom shots in pool
Perform 3 combination shots in pool
Perform 3 combination shots in pool
Perform 10 hat tracks
Perform 10 hat tricks in darts
Queen of Passion 1
Get the highest score in Queen of Passion (Easy) at the disco
Queen of Passion 2
Get the highest score in Queen of Passion (NORMAL) at the disco
Queen of Passion 3
Get the highest score in Queen of Passion (HARD) at the disco
Win 1 shogi game without a take back
Win 1 shogi game without a take back
Win the Champions' Cup
Win the Pocket Circuit Champions' Cup
Win the Experts' Race
Win the Pocket Circuit Experts' Race
Win the Introductory Race
Win the Pocket Circuit Introductory Race
Win the Little Racers' Cup
Win the Pocket Circuit Little Racers' Cup
Win the Pro-Am Race
Win the Pocket Circuit Pro-Am Race
Win the Rookies' Race
Win the Pocket Circuit Rookies' Race
Screenshots
Videos
See also